If you have never thought that you could save money using your credit card, then think again. You can do it and save even up to Rs. 6,000 each year using the Standard Chartered Super Value Titanium Credit card.
Each month you must pay fuel, utility bills and other expenses. This is routine by now, and since these are bills that must be paid, wouldn't it be great if you would be paid back simply for paying your bills? That is what you should expect when you use this card.
The Standard Chartered Super Value card for India is a card that offers to payback your purchases in the form of cashback for everything you do using their card. This is how you can save money using the card per transaction.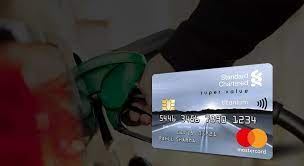 Benefits of the card
So, one of the main benefits of the card is that it offers to pay you 5% cashback on phone bills, utility bills and fuel. You shall earn 1 reward point for all other expenses and for customers who use their credit cards to pay for everything, the card is very rewarding. Here are some other benefits of the card;
Fuel savings
The card gives customers a 1% waiver for fuel bought using the card. This may not seem like much, but it shall also offer a 5% cashback on fuel payments with a maximum of Rs 200 each month.
Hello Savings
We all use the telephone, and have bills due each month. With this credit card, when you pay for your telephone bills, it shall give you a 5% cashback on all telephone bills up to a max. Of Rs. 200 per month. The credit card gives you a maximum of Rs 100 on each transaction.
Other utility bills
Other utility payments such as water and electricity are also part of the deal, and shall also earn you a 5% cashback simply by paying for them using the credit card. You can then start saving money using the card.
Reward points
Other than cashback, you shall earn 1 point for every Rs. 150 you spend on the card for all expenses including the utility bills you pay above.
The Good Life Program
Additionally, the card gives you access to their "Good Life program," that hosts many discounts and offers for shopping, travelling, dining and many more.
Also, if you are a Standard Chartered India client, you shall get the added advantage of Zero annual fees on the card which is a great offer.
Fees & Charges
Here are the Charges associated with the card
Joining fee – This is charged at Rs 750
Annual card fee – this is Rs 750
Interest rate – this is a bit high at 3.49% each month.
Withdrawal fee on the card – this is charged at 3% of the amount you shall be withdrawing or Rs 300 whichever of the two is higher.
Rewards redemption fee – while redeeming the rewards, you shall be charged Rs. 99.
Cash processing fee – this is charged at Rs. 299
Over the limit charges – this shall be charged at Rs. 500 or 2.5% of the over the limit amount whichever one is higher.
Foreign currency transactions – the fee shall be 3.5% of the value of the transaction.
Eligibility criteria
To become eligible for the credit card, you must meet the following requirements;
Must be between the ages of 21 and 65 years.
Must have a stable source of include per month.
Other requirements as per the banks policies.
Contact address
Customer Care Unit 
19 Rajaji Sali Chennai
600 001 India.
Phone number – 91 44 6601 4444
How to apply for the card
To apply, visit the company website and click on "Apply Now" Option.
Enter the information they shall request of you and then click on proceed. You should then wait for them to contact you through the bank representatives.
Conclusion
With these benefits outlined, this is a good card to have in your wallet. Visit the company website for more about this card and how it can help you.
Note: There are risks involved when applying for and using credit. Consult the bank's terms and conditions page for more information.